12 February, 2011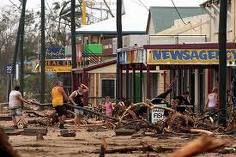 We made the most of catastrophe. We roamed the map and manipulated at will, though our havoc had a little more panache than Yasi. As promised, here's a Top 20 of damage, followed by the Best Deletion and Best Insertion (quite the trophy to show your grandkids, that one). In alphabetical order, the picks of the carnage are:
A Lie Springs– home of parliament house [Nib stretches the rules, and prevails]
Aceduna (Ceduna) – You-beaut bedding [Eld Jaws Anon]
Coma (NSW) – Rival claimant for Australias most boring town [Simon L]
Glee – Where students do no work…they just sing and dance (annoyingly) all day [SK as TV critic]
Kow Swamp – Kow Swap: Stockmarket [Sam]
Lightning Fridge (NSW) – home of the environmentally powered freezer [SK – a ripper]
Murray Be(n)d – renamed during the floods [PRS – topical and ticklish]
Newastle: Friday newspaper event inspiring a mixture of excitement and fear. [JT cashing in with flattery]
Omo (Vic) – Tidy town winner three years running. [Simon L – close to best. I loved this one.]
Orwell – Postcode 1984 [Mr X]
Poowrong – Gippsland town that has banned dog walking [ML]
Stabwell (Vic) – Town of conscientious criminals. [Simon L]
Steal Rocks (NSW) – Home to Australia's leading jewellery thieves [SK]
Swank Hill – or BO Hill [ML offers you the choice]
Sweipa: Sister city of SK's Broom [eloquent plus and minus gag from Eld Jaws Anon]
Toorank – excessive Melbourne suburb [Sam]
Tumult (NSW)– Winner of numerous "Untidy Town" awards [SK]
Unbury – The village taking the practical approach to zombie creation. [Alec Ihm, with a nod to Sam for uncovering the gag]
Wee (Wyee) – voted no.1 town in NSW [Hilarious definition by SK]
Wonthaggis – A town of vegetarians [ML]
Best Deletion: Carton: Home of the Blues, renamed by its late President Dick Pratt [Mauve – a double gag in this one, beautiful.]
Best Insertion: Soberon – sister town to Tom Grogging (VIC) and Drunk Island [A triple-bunger with pike from SK.]
Some splendid sabotage, Stormers. Thanks for the laughs, and the awesome onomastics. To quote the ever-quotable Gymbunnies, Uuru, till next time.
"