11 October, 2010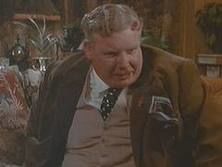 For those who missed the Wheeler spiel, the night was a blast. A big room, full of the verbally touched – what's not to love? In the capable hands of MC, Michael Williams (whimsical male around 49?) we plunged into the joys of anagrams and double meanings.
From a setter's point of view it was a rare pleasure to meet solvers, including a woman named Helen who wished her book to be dedicated to Catherine, her future daughter-in-law. When I asked why, she told me one of my crosswords was a mutual challenge – in two cities – and how their eventual triumph in completing the grid was the best kind of omen for the next chapter in their lives. As I say – a rare pleasure.
Another story really seized me – the tale of Monty. A tall Gen-Y bloke was part of the signature queue, and wished his copy to be assigned for Monty. That's a cool name, I said, thinking it belonged to the 20-something. Wrong. Monty was the purchaser's grandfather, and the sensei to turn him onto cryptics.
Wow. Is he here?
He was – a dapper gent in his late 80s or so, with Zimmer frame and mischievous grin, Monty came over to say he remembered the first tide of cryptic clues when he was living in England, back in the 1930s. The Ximenes of whom I'd spoken in my earlier chat – Monty saw this legend come and go, drafting the rules and etiquette of the new cryptic genre in real time.
What struck me most about Monty, was not just his clarity, his sharpness, but how the fellow was a living link between cryptics in utero to the contemporary version. And I only wished I'd taken down his contact details for a further chat on that topic. But the moment evaded me.
So here's my shout-out. My plea. Treat this post as a detective case, if you happened to be at the evening, or know an elderly sprite called Monty. Are you the grandson reading this? Would anyone have any leads I could follow? If you wish to remain discreet, then by all means use the EMAILDA function on this site – anything to further my Chat-With-Monty Campaign.
"