7 July, 2013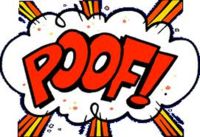 Today's words can follow MAGIC, with any HEY PRESTO letters disappearing! Hence a word like BULLET, which can fllow MAGIC, would appear only as BULL (2), the E and T vanishing. Or MUSHROOM, another MAGIC follower, would come across as MUM (5).
Note the missing letters are tallied, while the exempt letters keeping their sequence. (And can you extend to our magic circle?)
UDDING (1)
LANN (3)
CA (4)
QUA (3)
ALI (4)
LL (3)
(3)
IN (4)
SOLUTION TO APPEAR NEXT WEEK
BB419 SOLUTION: Virgin birth, Rin Tin Tin, living in sin, indistinct, sci-fi film, Philip Pirrip, missing link, first-string, high spirits, gingivitis, Dick Smith, shipping firm. Other i-words may work.
"