14 June, 2012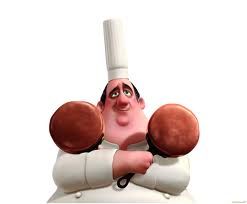 Just spent a happy half-hour researching Pixar movies for a forthcoming Metrohead puzzle, when I discovered something wonderful about this pompous chef. The monsieur, who appears in Ratatouille, is named Auguste Gusteau – where first and last names are anagrams of each other.
Magnifique, I'm thinking. What fun for a blog game, twisting first names into plausible surnames, and providing a mini-bio. It's almost like Masterchef, but without the Three Wise Monkeys over your shoulder. So who else can we cook, chef-style?
Belinda Badline – telco service provider
Tom Mot – bon vivant
Simone Oneism – ferociously independent Ms
Logan Anglo – National Front secretary
Any more for the droll-call?