27 July, 2012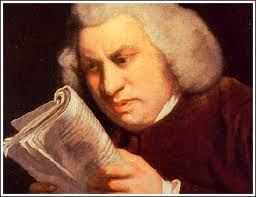 Picked up a cute book in Readings yesterday – Fopdoodle and Salmagundi: Words & Meanings from Doctor Johnson's Dictionary That Time Forgot. Flicking through over brekkie, I've learnt yux to be a hiccup, dizzard a blockhead, and flexanimous – having the power ot change one's mind!
See how you fare with this arcane quiz. Answers are in the Comment section. And then see if you can create a silken clue for any of the five.
PLEDGET -
A] clump of lint
B] white lie
C] young cockerel
D] scarf clasp

SPONK -
A] small spade
B] trouser stain
C] castrated ram
D] sulphur-dipped match

FURACIOUS -
A] inclined to steal
B] cantankerous
C] prone to chance
D] mildewy

MUNDUNGUS -
A] tufted petrel
B] remainder of a debt
C] foetid tobacco
D] cattle disease

PICKTHANK -
A] seller of pirated books
B] meddling official
C] ragamuffin
D] spittoon
Answers in the Comments. How'd you go/guess? And see if we can clue Dr J's five with style.