19 July, 2011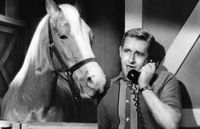 Cryptic clues! Cryptic clues! Cryptic clues! (I can almost hear the chant from my desk. You lot excel when a Storm requires a spot of clue crafting, so here's the meat for your appetite. Or tofu, if that's your thang.)
Choose any five-letter word that has the ability to convert into a four letter word, when any letter is removed. For example, LEAST (or ASTLE if you wish to catch the eye, since proper names are cool) can dismantle into SEAT, SALT, LETS, TALE and SEAL (among other possible words). And after the destruction, comes the construction, with a clue for each of your 6 words – the source word, and five offshoots.
Here's my example:
DREAM – Elite change of leadership is fantasy
REAM – Matutinal papers?
MADE – Loud domestic on Easy Street?
DRAM – By end of round, memory is shot
MR ED – M-Marxist in stable condition?
DEAR – Precious bivalve (heart) in the German
Give it a crack, and dream big. Just drop each letter once and scramble, and submit your six clues in similar fashion, with dear prizes afforded to the top three cluers. (And just a favour, nearing deadline by 8 on Thursday, if you could put your best few sets forward, as the medals will be for the best cluster, with only special mentions for one-off clues.) Dream on.
"