15 July, 2014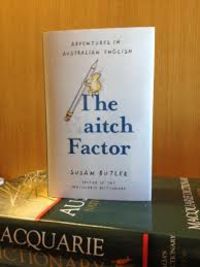 Time for a prize. A spot of incognito clue-work to win a copy of Susan Butler's verbal picnic: The Aitch Factor: Adventures in Australian English.
Susan of course is the editor of the Macquarie, and tackles such semantic pickles as tall poppies, wooden spoons, deciduous hyphens and why petroleum jelly is wiser to say than Vaseline. (I'll be featuring the book in a coming Wordplay column.)
So pick a word with an H, then clue it. Next you ditch that H to make a new word to inspire a new clue. The best pair before Thursday 6pm wins the Butler book. (To make things impartial, as I'll be sole judge, please use an H-alias.) Here's a foretaste:
MARSH – Soft spot for Iron Gloves?
MARS – Spacebar?
STANCHES – Deviant snatches stems
STANCES – Grant from media given to dole office positions
Who's hampering you? Hoe in.