18 June, 2011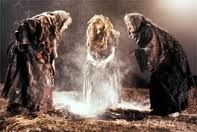 After a sluggish start – largely due to my ambiguous ground rules – the two-faced clues surged in, with close to 20 double-dealing grids created. That was the idea – to make a 5x5 waffle square which could house two sets of answers for the one set of clues.
If that doesn't add up, then admire the winners, each composer a rightful claimant of Mauve's new Which game. First, with no dispute, was a blazing construction by Boniface:
1A Cords (ROPES/LACES)
4A Muslim ascetic (FAQIR/SWAMI)
5A Superstar of the 70s and 80s (EVERT/REEVE)
1D Light weapon (RIFLE/LASER)
2D Rub the wrong way (PIQUE/CHAFE)
3D Physical support (STRUT/SPINE)
Love that central Q, and the Superstar wordplay, with every clue suavely owning both solutions. A gem. Meanwhile, scoring her second Which game (gotta mate's birthday coming up?) is RK with a late eye-catcher. Also taking a turn for the Scrabbly – with a pair of Zs in play – RK's puzzle is equally seamless. Go on, call me a liar:
1ac. Lift notes? (MUZAK/STEAL)
4ac. Former US president (DUBYA/ADAMS)
5ac. Duck (EVADE/EIDER)
1dn. A creature with bite (MIDGE/SNAKE)
2dn. Savannah inhabitant (ZEBRA/ELAND)
3dn. An unreliable guy (KNAVE/LOSER)
Leading us to the Bronze Janus, and this was where I gnawed a while. Admired JD's spirit – somehow making one clue render PLANB and SUSHI. Loved LR's concision, and Mr X's for splicing ATARI and ALBUM, or Nib for beginning with HEINZ/WORMS. Also dug SK's ASTLE/VADER conflation, against my lawyer's advice. But for bold ambition, on top of getting this ambiguous ball rolling, I dip my chequered cap to DC for attempting (not perfectly) to craft six cryptic clues with dual outcomes. Quite heady:
Succubus veiled about drug-free (DEVIL/DEMON)

Diviner sounds transcendent alarm, backs colourful covering (TAROT/AUGUR)

Troubled actor changes gender, bearing revolutionary (SHEEN/HECHE)

Passes tomb marking (DATES/DEATH)

Words that move seer, a Roman figure (VERSE/MAGIC)

Saddled after changing primary language (LATIN/NORSE)
Look for a more lucid, less laborious Storm next Tuesday. And please, those Three Whiches of Cawdor, give Mauve a nudge so that he can pass on your provocative prize. Congratz all round – for the brio, and the perseverance. A worthy Storm to warm the winter cortex.
"