18 November, 2012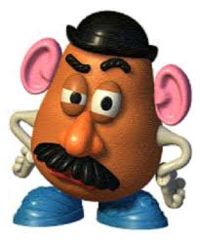 Vegetarians will find today's ten phrases palatable, as each answer refers to food of a vegetal nature, without a skerrick of animal flesh on the plate.
And just to make sure you're holding the right end of the pineapple, no fruit appears among any of the ten solutions. Nothing here but nibbles from the vegie patch – so hoe in. (And see if you can add to the harvest.)
A-bomb billow
Accountant – slang
Tube addict
Identical entities
Tools of persuasion
White Album song
Police ploy
Boxing souvenir?
Newborn's mythical origin
Acutely embarrassed
SOLUTION NEXT WEEK BB388 SOLUTION: Stig (jig), muscle (hustle), five (jive), wheel (reel), whist (twist), mango (tango), amber (samba), bolts (waltz), stronger (conga), litterbug (jitterbug), jimmy (shimmy), number (rumba)
"