21 September, 2010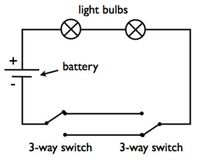 Don't ask me to explain precisely what mho means. In lay terms let's settle for a reciprocal unit of resistance, and move on.
\n \n More the point for us, MHO derives from OHM, reversed – and that's the gist of this week's Brainstorm. Choose an existing word, spin it, and hey presto – there's the antonym. Simple enough? Not when you're aiming to fill a genuine niche in the language, or hoping to create an elegant and pronounceable word.
Tyro reversed, say, makes oryt, which is pretty tough to say, compared to eikoor, or even better: ruetama. Then again, choose a word that already exists, like boon (a flipflop of noob) to express the idea. All of which suggests that any experienced Stormer (or ruetama) will choose wisely which word to rotate.
A few more shots:
nuf – work (and krow – leisure)
oohay – gentleman
pollawsdoc – truth
yednys – Melbourne
pots – go
Enough to get an inkling, I hope. This is a brief Storm, with deadline 6pm Thursday, as we may have some late-week hijinks with a certain sporting event slated for the weekend.
Reversible prizes will be awarded in FIVE categories. Best pair of doubles (like the nuf and krow example), best niche filler, most pronounceable outcome, best use of an existing word (like pots and boon, perhaps) and the most utterly evisluper.
"