11 March, 2016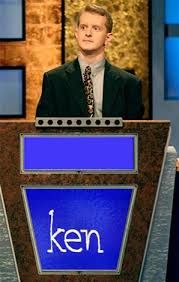 Ken Jennings is the US trivia king without peer. Back in 2004, he reigned for 74 episodes of Jeopardy!! (That's one exclamation mark to accompany the show's exclamation mark.)
He also mails out a free set of curly questions every Tuesday. It's open to subscribers, while the posers are always fresh and intriguing. Without fail, my favourite of the bunch is the final question that boasts on being Googleproof.
That question may relate to quirky film links, or VIP overlaps, or city sizes etc. And last year, the Googleproofer turned its focus upon the periodic table. I've listed the relevant elements below. So (a) can you detect their unique link? And (b) - can you compose the smartest clue for any of the substances, no definition needed?
Bismuth
Caesium
Chlorine
Indium
Iodine
Praseodymium
Rhodium
Rubidium
Thallium (arguably)
Zirconium
Enjoy your rubidium conundrum, and chlorinated clue-crafting...