24 September, 2013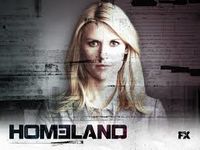 Claire Danes may have won Most Outstanding Lead Actress in a Drama Series, but wordplay can change that. Below is the list of nominees, including Ms Danes, from yesterday's Emmy Awards. With no call for definition, let's convert these celebs into wordplay for a chance to win an American book of classy crosswords.
Invent your wordplay using a TV alias as cover-name. And come Thursday, between 2-6, submit your two best clues only. All players must vote 4/3/2/1 on Friday, before 6pm. The winner will be announced on Saturday, and be sent Crossword Superstars, with 55 brilliant brain-busters. Here are the nominees:
Vera Farmiga
Claire Danes
Michelle Dockery
Robin Wright
Elisabeth Moss
Connie Britton
Kerry Washington
May the best femme flourish.