28 October, 2012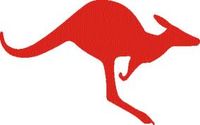 Promise I'll leave animals alone, after our bestial Storm, and then Nib's monkey-tail doggerel, but here's an old Wordwit that warrants a second airing. Not just a sweet challenge to unravel, but also an intriguing invitation to coin your own proverbial fauna.
So, if the zoological name for the red kangaroo is Macropus rufus, does that make a lone wolf, Lupus singularis? Using any Latin hunches, what are these next ten idiomatic animals?
Canis excellens
Bovis sanctus
Piscis gelidus
Columba scamna
Equus atrus
Cattus exterritus
Castor fervidus
Sus totus
Bos loquacious
Apis abecedarius
SOLUTION NEXT WEEK
BB385 SOLUTION: Hop master, Pom's earth/heart, roast hemp, other maps, Rome's path, pa's mother, parts home, ham poster. (Other anagrams are possible.)
"