26 April, 2016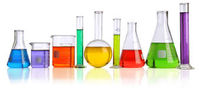 Spoiler alert, Fairfax solvers. If you haven't given last week's DA puzzle a shake, then you may need to skip this Brainstorm. Or the next paragraph at least.
Because the periodic table was my theme, using the atomic numbers as pointers to a dozen different elements. Clue 10, say, led to NEON. While 27-Down was COBALT. But the table remains largely under-plundered, ready to be rumbled by this week's clue-fest.
And just like Friday's themer, tweaking elements into clues, the relevant number is the only definition you require. Below is a sampling of some you can craft, as well as an example clue, but feel free to visit the actual table to pick and choose your own substances to make your mark.
Goggles on. Lab coats buttoned. Let's see who will excel elementally!
3 - Lithium
5 - Boron
7 - Nitrogen
9 - Fluorine
14 - Silicon
19 - Potassium
30 - Zinc
36 - Krypton
42 - Molybdenum
51 - Antimony
99 - Einsteinium
112 - Copernicum
115 - Ununpentium
POTASSIUM - Stagger up to a miss, 19
ANTIMONY - I'm totally into Shakespearean lover, 51
TUNGSTEN - 74 licks heard on Pearl Jam album
Have fun in the letters lab.