20 December, 2010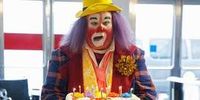 On paper, DAMP SWAMP seems like a rhyming pair, just like GROWN CLOWN. Yet both false rhymes fall short, as only their endings, not sounds, are shared. Using the clues below, can you figure out a dozen other false pairs?
Wide street (5,4)
Hobart girl (6,6)
Adult attitude (6,6)
Kennel? (5,5)
Czech pox (6,6)
Keg tiff (6,7)
Vile spirit (4,5)
Sophia Loren? (5,5)
Boxer badge (5,6)
Piggy climax (7,6)
Kudos trace (8,7)
Harshest peak (8,7)
Care to challenge us with a few of your own?
SOLUTION NEXT WEEK
BB288 SOLUTION: Hyena, weasel, sloth; Dryden, Rilke, Dante; Cairo, Athens, Tunis; Jewel, Usher, Sting (one-name singers); heart, kernel, core; merry, drunk, boozed; Oliver, Cats, Carousel; crane, tsetse, march (flies); pearl, paper, pottery (wedding anniversaries)
BB288-A SOLUTION: H/pen, l/tame, p/nest, Iceland/Ireland, y/howl, yap/k, clamp/clasp, harried/hurried, previous/precious