21 March, 2011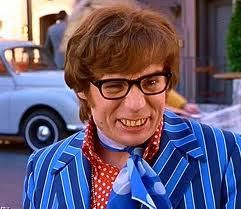 How-do, crew. A few tweaks and changes currently in progress, as you may have noticed. Recent posts now warrant their own scroll, just so you can keep tabs across several fora. (Or should that just be forums: discuss.)
Soon a Preview Post gizmo will be at your disposal, as well as the possibility of a Search Site function. Because here at DA Central, your customer satisfaction is important to us. To that end, let us know how much better your surfing life has become – or not – as a result of this ongoing reno. As well as any more ideas while the webmistress is under the hood – and keep them nice.
Some other news too. Our UK patron, Dean Mayer, alias Anax in the Independent, has generously uploaded his latest Indie offering. On top of that, the wily one has directed your gaze to a certain floating object in the Austin Powers franchise as a bonus hint for 20-down. Take a gander.

Second, in case you missed the initial shout-out, this Saturday's episode of Can We Help plunges into the murky aquarium of crossword arcana – how they began, the origins of cryptics, the history of word-weaving – with yours truly sharing Pete's scuba tank. The same segment offers a chance to solve a clement mini-DA, with prizes on offer.

Third – out of town till Wednesday for a funeral, so the pre-loaded Storm is all yours for the first burst. An appealing challenge, I reckon, returning to a cryptic flavour, with one small warning: read all instructions carefully, as the coming comp asks you to operate incognito. More soon.