12 September, 2011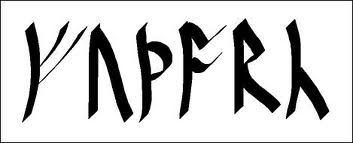 Futhorc so happened to be a pivotal word in my TV talk on the weekend, speaking at the Style Council seminar in Sydney. My argument maintained that TV – versus any other media – bears the greatest influence on how we speak.
My opponents were Julian Burnside (newspapers) and Kate Burridge (social networking), and the verdict was a near thing. I won't trade secrets until the Radio National broadcast – on a date to be announced – though Boniface was in the audience, and his price of indiscretion may be more reasonable.
This post is for Times travellers of course, those resolute pilgrims cracking puzzles from Sept 12 – 18. Do share your experiences in the Comments, with a caution on overt spoilers. (I may open two Times forums next week, allowing spoilers on the second. A good idea or too much fiddle?)
And last, in case you need a different brand of puzzle hit, separate from UK fare, or forbidden Fairfax fruit, then try your hand at my Rubicon crossword, which appears twice a year in Australian Style. (Just look for the link on the right.) With only a handful of cryptic clues, Rubicon is more a jigsaw-acrostic, with a secret set as payoff.
Signing off, DA.