19 October, 2011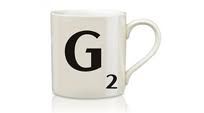 The World Scrabble Tournament held in Warsaw almost erupted into chaos last week when a G-tile went AWOL. The barney centred upon Thai champ Chollapat Itthi-Aree who accused his Brit opponent Ed Martin of stowing the consonant on his person.
Thankfully a strip search never came to pass, despite the Thai's demands. Eventually, play was resumed, the game coming down to a one-point win in Martin's favour. The tourney's eventual winner was Kiwi Nigel Richards, with silver going to Australian maven (and Letters & Numbers Series One maestro), Andrew Fisher. As for the mysterious G, the tile remains missin'.
Hence our little game to spice up the week. What say we present any word that contains a G, with the G removed, and argue Scrabble-style, what the nonsense may mean? For example:
RIMACE: half-pipe virtuoso
ORESS: female mineral
ALLERIC: susceptible to anything
JUGLE: small pitcher, only worth 500 words?
FOOTBRIDE: sole mate
Silly stuff, but worth a gigle. And major kudos to Andrew too.