4 September, 2012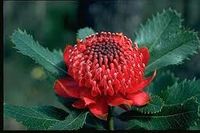 A bit late in planting the Storm this week, but a glorious springtime Tuesday is its own excuse. Spring is the principal thing too, as your green-fingered challenge is to clue a flower (wordplay only), and then clue a word (def and wordplay) that's been plucked from your flower's letters. Here's what I mean:
HYDRANGEA – Bury wanderer to his ear (sounds like 'hide ranger')
HYENA – Cackler sampling Chaney horror retrospective (reverse hidden)
or…
WARATAH – Fighting a bowler's comeback (WAR + A + HAT reversed) THAW – Warm fronts tease hedonists all winter (initials T.H.A.W)
Can't see either winning Best At Flower Show, but they should get you into the spring of things. One flower – or plant – clue (no def), and one word (of three of more letters) plucked from your garden choice, supplied a complete clue. Feel free to prune and try variations, or other's flowers for that matter. Oh, and choose a vernal alias, planting your two best couplets here before Thursday 9pm. May the greenest thumb win.