24 May, 2011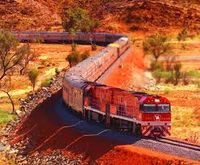 As winter edges nearer, scores of tourists will be taking The Ghan up the guts, the train to link Adelaide to Darwin. To help idle the long, red hours, we've been asked to compose clues for the five main stops: Port Augusta, Coober Pedy, Kulgera, Alice Springs & Katherine. Two clues in fact: one for each class of passenger – the VIP fare, and the GP, or General Public.
In short, this week is a two-tier challenge – to make two elegant clues for each of the five stops – one for the seasoned solver, and one for the plucky rookie. Two levels of difficulty, if you like – a one-star and five-star. Here's my shot at Katherine:
KA – VIP: Endless swimmers in stock
KA – GP: Break in the rake
Feel free to offer the clues as they occur to you – in GP or VIP order, paired for one answer, or in dribs and drabs. So long as you classify the inkling, using the railroad code for the five stations: PA, CP, KU, AS and KA, along with the class identifier of VIP or GP.
Come deadline by late Thursday, if we can all file our ten clues from south to north, with both clue levels attached to each stop. As in my sample, there's no need to include a defintion – though you may if it suits your wordplay.
Note for Rookie Stormers: if you're pretty new to this cryptic biz, though you know the basics, then feel free to submit five GP clues only – though making a good 'easy' clue is not always easy on paper. But here's a good Storm to take a crack.
Hamper loaded? Camera charged? Hip flask smuggled? Let's get this Storm on track.