28 May, 2011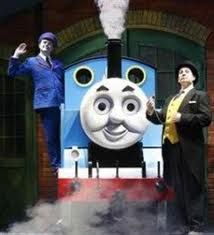 All aboard for the Ghan Jury Prizes, where we hand out trinkets to the best five clues, in both the VIP (applied) and GP (kind) sections. Once more, I found it hard to separate wonderful from wondrous. In particular the VIP class for Katherine was a gala of greatness, a three-way tie my only escape.
So just because your name doesn't crop up often, doesn't mean your stuff wasn't given lavish scrutiny, including newbie One Wheel – but in the end I tried to pick one winner per stop, and failed most times. So here they come down the track, the GP leg first:
PORT AUGUSTA (GP): Guru sat atop rock [SK creates a lama-like image. Though just as canny…]
PORT AUGUSTA (GP): Wine month – onto third glass [LR, hic. A humdinger too. Special mention to Mauve for his gold rush and RM's sugar, tarnished by an iffy signpost]
COOBER PEDY (GP): Firm body peer developed [RK limbers up with style, sharing the limelight with…]
COOBER PEDY (GP): Proceed by oxygen circulation [Mauve gets down and physiognomic, with Honours. And a nod to Mr X, despite a redundant 'a'.]
KULGERA (GP): Lastly, thank you all cluing here for DA. [dg tries a Stormy ploy, and succeeds. ]
ALICE SPRINGS (GP): Gore cools on polar cap calls [LR gets climactic and climatic in one go. Also loved RV's slashing humour and Boniface's malice. A general note: does Alice Todd = Alice Liddell = Alice in Chains? And lice is plural – ]
KATHERINE (GP): A female heir taken cruelly […by croc, dg? His anagram was just as sweet as…]
KATHERINE (GP): Roundabout near Keith [JD knows her geography, as Keith is a SA town, so keeping the story regional. A nod too to RV's belt.]
++
PORT AUGUSTA (VIP): Harbourmaster's home? [SK staked his claim early, and kept his lofty ground all Storm. A deft clue.]
COOBER PEDY (VIP): Importing drug (dope), Corby is busted [When travelling, RK chooses to stay at the Bangkok Hilton. A dazzler. Almost as good is Boniface's probe, so to speak.]
KULGERA (VIP): Regular experimentation turns a river into potassium [Again Mr X succumbs to a spare 'a', but the idea – and story – are ingenious. Mention also to LR, who was slightly ill-served by served as a sound signpost. Distributed? Circulated?]
ALICE SPRINGS (VIP): Special outcalls [A succinct sucker punch from RV. Just as evasive as…]
ALICE SPRINGS (VIP): Aligns prices around central setting [Mauve on the trading floor, gaining ground, with a seemly inclusion of the definition too.]
KATHERINE (VIP): Two cards, neither wild [This clue from RK, in tandem with LR's polar cap, were the Storm's best. So good I'm envious. But I must make a fuss over…]
KATHERINE (VIP): Bakery essentials: wear hairnet inside [LR looks good in snood. And just as handsome…]
KATHERINE (VIP): Take heroin, collapse and lose oxygen [Junkie chic from Mr X – three outstanding clues. With a running salute to Boniface's Tarkine take, as well.]
Before we pull into Darwin, the land of porn and prawn, here are the final tallies. With 3 points for star billing, and a point per favourable mention, we see the echelon read like so: LR (10), RK (9), Mauve and Mr X (both 7), with SK and dg (both 6), and RV nearby on five. I dip my Casey Jones cap in sheer train enthusiasm. Some model clues in a five-star Storm. Next week, we enter the world of sound, with a real-life tangible prize up for grabs. More soon. Tune in Tuesday.
"