26 December, 2010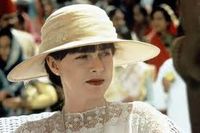 As most of us are travelling elsewhere for holidays, let's look at eleven movie titles that also include a country's name. By supplying one other word from the title, can you identify the whole? Passage, for instance, points to A Passage To India. Get set for more globetrotting – and take care out there.
syndrome
tailor
morning
hotel
house
last
seven
prince
rule
benefit (2 countries)
comes
Care to set another theme, and supply other words in the titles?
SOLUTION NEXT WEEK BB289 SOLUTION: Broad road, damp swamp, Tassie lassie, sure cure, mature nature, worse horse, full skull, barrel quarrel
"