17 October, 2011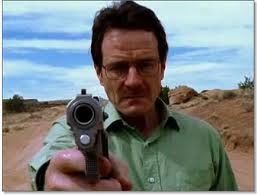 Big reminder to watch this week's battles on Letters & Numbers. We've reached the pointy end of Series 3, where the games determine the ultimate Conquistador. Some bell-ringer games.
Second, let it be known, that Bryan Cranston is a marvel. He's the worry-worn, defiant geek in Breaking Bad, and I'm adoring Season One, with one episode to go. (Perhaps as a rugby antidote, not sure.) But as a major fan of The Sopranos, The Wire, and even Dexter on another level, I can vouch for Bad's quality.
(And yes, I do have Deadwood and West Wing on my list of retirement projects. What are your HBO – or general telly – vices?)
Breaking Bad is also gold because it's a double anagram signpost – a rarity among any TV, book or film titles. In the hunt to find others I came across such phrases as dance club, plastic surgery, jerk off and new wave. Must be some other gems out there, including a title.
So let's make a classy list of doubles. And if one player opts for OFF, then feel free to double up, and recycle in another guise, if only to hunt down sweeter harmony.