11 January, 2012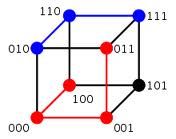 RobT and I have been playing a game of our own, over in Salon 10. And perhaps the time is right to share the distraction. The quest is to find two opposites that share their alternate letters (odds or evens), with at least two letters enlisted.
Seems this syndrome has a name too, as I discovered by fluke. The notion is called the Hamming Distance, named after American maths whiz, Richard Hamming, who explored stats and codes in terms of their minor variations.
Anyhow, the game emerged thanks to yesterday's Times, where my stab for TWIT, the answer, ended up being the loose antonym of SWOT. A neat example of our challenge, since two letters are shared in the same slots, and the other letters are different.
Don't expect we'll find a glut of these babies, but there must be an elite club we can formulate. Might be fun to present our findings in puzzle form too, such as:
Assist/block [HELP/HALT]

Zero/larger amount = [NONE (or LOVE)/MORE]

Fast/slow one (5)

Passé/newbie (5)

Come forth/recoil (6)
Too hard? Too flaky? Let's see what we find.
"