28 September, 2010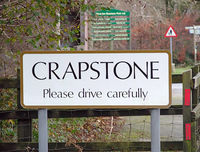 You think the Delhi Games have problems? Try living in a town like Dismal Swamp, in northern Tasmania, or Cockburn west of Broken Hill, and see how many visitors you pull.
That's your challenge these next few days – to devise a slogan for some of Australia's less attractive names – plus a handful of not-so-dainty North American spots. Kite-flying an idea for Broke, say, on the western edge of the Hunter Valley, you may try 'Broke: Why Not Go For It?'
Or: 'Broke: Don't Fix a Thing.'
Or: 'Broke: Anagram Heaven'
Apply tangents, artful smut, puns, flak spin, rhyme, allusion – any tool at your disposal, so long as a laugh results, or a visitor's inquiry is provoked. Ideally both.
For reasons of spam filters, don't be too potty-mouthed, but innuendo and lavatory humour is encouraged. In fact, almost unavoidable. Winners will be listed in shortlist fashion, depending on the weight of wit and brilliance the Storm inspires. Get spinning. Deadline close of biz on Thursday.
Broke, NSW
Burpengary, Q
Burrumbuttock, NSW
Chinaman's Knob, NSW
Cockburn, NSW
Coffin Bay, SA
Come By Chance, NSW
Dismal Swamp, Tas
Innaloo, WA
Iron Knob, SA
Mooball, NSW
Mount Buggery, Vic
Mount Misery, Vic
Poowong, Vic
Useless Loop, WA
++
Accident, Maryland
Dildo, Newfoundland
Embarrass, Minnesota
Hell, Michigan
Hooker, Oklahoma
Intercourse, Pennsylvania
"