28 June, 2011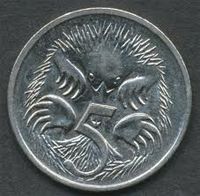 With news of our beloved echidna nearing extinction – via our five-cent piece – the time is right to play a verbal game of two-up for this week's Storm. But be warned – just like two-up – this pastime can soon become addictive.
Here's the game. Pick a phrase, a song, a movie, anything with a decent cluster of words, and see what word you can spell by choosing the head or tail of each word, as you read across the line. For example, that chop-socky gem from China, House of Flying Daggers would give you HOGS. Not that swine feature largely in the film, but it's a start.
Looking elsewhere, The Devil Wears Prada can make ELSA, while Smells Like Teen Spirit renders SENT. Getting warmer. We're after an outcome that somehow reflects on the source – or just a discovery that amazes by virtue of length or beauty.
Two of my better efforts:
Shop till you drop = STUD
All over bar the shouting = LOBES
But my favourite belongs to that blue-collar band, Hunters and Collectors, whose softer anthem (Throw Your Arms Around Me) yields TRADE. As for the use of A or I – or any single letter in a phrase – that's fine. Shake a leg, for what it's worth, could give you SAG.
So that's the racket. Can you outshine, out-measure, out-call to win this week's Storm? No material prizes – though a jar of coins can be negotiable. But two categories – Best Appropriate and Rarest Find. Go to it, tossers.