21 November, 2012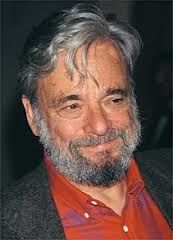 Maybe the highlight of the year, if not my entire sheltered life. Last night I had the pleasure of meeting Stephen Sondheim, lyricist and composer of the first water. He'd made a trip to Melbourne to see his Forum show, and I he spared a brief 'audience' in the foyer afterwards. While our handshake was hampered his broken right wrist, I settled for a simpatico southpaw.
Gave him the UK Puzzled too. As soon as he saw the jacket's check pattern, the maestro's eyes lit up. Because Sondheim may be feted as the creator of Into The Woods, Sweeney Todd – the wordsmith of West Side Story – but he's also the man to introduce America to cryptic crosswords. If you don't believe me, try the man's first mind-boggler, a themer from 1968.
The cherry on the cake of our foyer chat? The moment Stephen looked at the book, then looked at me, and asked, "So are you a composer?"
Um no, sir. I make crosswords. You compose.
(I'll be solving Stephen's debut this week, so feel free to reflect here upon the high notes.)