9 October, 2010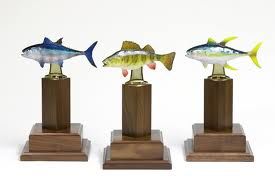 Fish songs: the storm you have when you don't have a storm…
What a maelstrom this quick-fish-song-thingo proved to be – with 30 posts and 70 piscine tracks, from Flake, Rattle & Roll [PRS] to newcomer Jodie R's Cod Save the Queen.
Mauve dived deep, surfacing with several longish wonders, including Grilling Bream Softly with Saffron, which mimics the original's cadence exquisitely, while SK attacked shellfish in the shape of Sweet Home Abalone.
And an extra shout to xobhcnul too – the moray I see his work, the moray I like. Though with brevity as tyrant, and a code-maker's need for a neat spread of alphabet, I reeled in these nine for a future Trap:
Barramundi Monday [Mr X]
Mullet Kintyre [SK]
American Pike [JD]
O Sole Mio [DK]
Frere Sharks [Mr X]
Guppy Love [DA]
Hold Minnow [Mr X]
All Chinook Up [Jodie R]
Piranha Round Sue [DA]
And a certificate of consolation for the louche Sexual Eeling – another X-factor. Ling, ling – thanks for the call, one & all.
"