5 December, 2012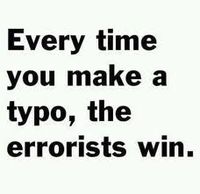 Call this a Storm of sorts, and perhaps a chance to test out our new toys later this week – like polls and leader boards, even the cross-flow of Twitter refugees. We'll see.
The theme is the typo, and the topic is a news headline from the last year or so. If 2012 feels hazy already, may I recommend this Wiki summary, or our favourite auntie's house.
Coin a headline for one scandal or another, a notable event, a lamented death, but with a comical or ironical typo embedded. Some kite-flyers:
PETER SLAPPER RESIGNS AS SPEAKER
LIBERAL LANDSLIDE AGAINST ANNA BLIGHT
JK ROLLING DUMPS HARRY
Storm Update: the best typo title before Thursday will win a copy of Drummond Moir's mishmash of spelling slipups, Just My Typo. This collection of clunkers will make the Christmas hangover vanish in a flesh – a recommended gag-fest for logophiles.
If the new poll is operating, submit your own DIY fave for voting before Thursday 9pm. To be eligible to snag the Moir book, you must cast a vote as well. As you can see, when it comes to mangling, you can apply substitution, omission, or general silly buggers. And may the best Dibbler wan.