3 November, 2015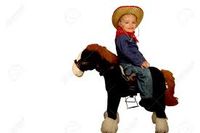 OK clue-mongers, a Storm with a twist this week. Instead of devising wordplay recipes for these fine steeds, as we often do come November, see if you can incorporate any of these names into your wordplay in order to usher in another answer.
For example, Snow Sky may inspire: Recognised Snow Sky cavorting off-limits = KNOWS. Or perhaps you may treat the galloper as a phrase, such as: Rapt creed ruined 'fame game' rollout? = RED CARPET
However you slice or dice the name, use each horse within your clue to reach an alternative solution. Meanwhile, from a crossword POV, may Almoonqith (with that renegade Q) go well, joining the ranks of At-Talaq. And feel free to box Big Orange (great letters) and Max Dynamite (an explosive 11). Happy clueing, and viewing.
Snow Sky
Criterion
Fame Game
Our Ivanhowe
Big Orange
Hartnell
Hokko Brave
Max Dynamite
Red Cadeaux
Trip To Paris
Who Shot Thebarman
Sky Hunter
The Offer
Grand Marshal
Preferment
Quest For More
Almoonqith
Kingfisher
Prince Of Penzance
Bondi Beach
Sertorius
The United States
Excess Knowledge
Gust Of Wind