6 November, 2014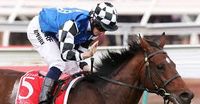 The Cup has flown to Germany, while the great celestial paddock has received two champs. A bittersweet meeting, and our chance to fanfare the trifecta with triumphant clues - and nobly Signoff their two fallen comrades.
No need for definitions, unless they suit your story. Just see if you can concoct some fitting wordplay to mark any big name in the equine quintet.
PROTECTIONIST
RED CADEAUX
WHO SHOT THEBARMAN
ADMIRE RAKTI
ARALDO
An early stab for PROTECTIONIST -
Tout tips in race position stupidly ignoring article
Care to have your own flutter?