19 May, 2015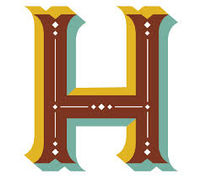 Time for a contest, with a tangible and readable prize. The book up for grabs is called The (H)Aitch Factor by Macquarie Dictionary's own Susan Butler. The title alone should help you guess where this showdown is going...
That's right - H hoicking. But not just in Cockney style (turning hair into air), but anywhere the H is hiding. That means HERRING and ERRING is a legit pair, despite the sound variance, just as much as BATH and BAT can be a couple. (Ditto for HEATH and HEAT - or EAT - where you banish whichever H/s you choose.)
Once you devise your duo - ditching the H from any word or name to make another - can you cook up two classy clues?
Let's not worry about aliases, as in the past. (Not sure if DisQus is all that keen about the ploy anyhow.) The winner will likely emerge amid a hubbub of consensus, otherwise I'll play Lord High Honcho to decree the stand-out double. My starters:
HAILING - Poor weather flagging
AILING - Harbour pursuit to remove sulphur, going green
LATHER - Prepare to shave woodworker?
LATER - Old opener lost face by and by
Have a helluva hoot, and I'll announce the best duo on Friday.