7 November, 2012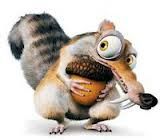 You may be thinking I'm smarter than I am. Or that may be the impression, since it's been over four months since I posted a list of Huh clues – morsels of wordplay I can't understand.
But what you don't realise is that I've been squirrelling, saving the opaque stuff for a rainy day. And here's just a smatter of my ignorance below, seven acorns I can't fully crack.
So do this dunce a favour and explain what nuance I'm neglecting, PLEASE. And if the muse moves, have a crack at conjuring your own clues for the same answers.
Little space for spooner's image bender? = THE EYE OF THE NEEDLE [How does Spooner enter Araucaria's parable?]

A bit of water for Spooner's sewage work = RAINDROP [Tell me, is Orense suggesting that Spooner's DRAIN is AINDR? And how's the opening R appear?]

Brain making bloomer perhaps = LOAF [Loaf as brain, I get. But not Mudd's suggestion about blooming bread. Can a baker save us?]

Party line a note-writer observed = REVEL [Times 9417 – could VE be writer?]

Unknown writer's block = NOM DE PLUME [Orense again. Is block a reference to a book jacket's banner?]

A creature from the deep lake = SEAL [Orense thrice. Lake = seal?]

Square dances? = GOGO [Oh, whoa…but how, Times 9391?]
Enlightenment (and alternative clues) invited.
"