31 July, 2014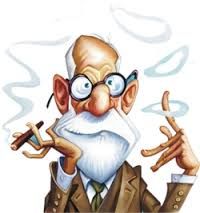 This could be some kind of record, where one crossword has offered five resounding Huhs. (These are the clues that still bewilder, even after they've been solved.)
I'm attempting the Times Tally, entering the early 90s this week – though a recent puzzle nearly threatened the ton, namely the notable Times 10,000. A fine milestone, but a bugger of a puzzle, entailing these four head-scratchers below.
Can you explain how they work? And can you compose a sleeker clue for any of the same solutions?
Film type spelt out in tableaux vivants in different form = FIFTEEN [I know there's a film called If… Then what?]

Pop back and reserve early delivery? = PINTA [Pop is PA. A Columbus ship is Pinta…?]

One introducing ID for restricting entry usually does, first of all = FREUD [Yes, I get the 'id' upcasing, then I struggle – ]

National department taking tax once a quarter Jan to Mar = IRAQI [But isn't Jan to Mar Q3, as financial years go?]

Dickensian architect needing kisses – but no bouquet! = PECKSNIFF [Trying to figure how bouquet yields NIFF]
Any insights, and renewed delights, most welcome.