21 September, 2015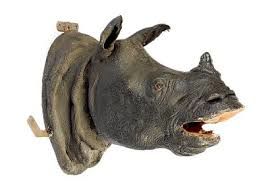 A recent raft of Times clues has me raking the scalp overtime. While I'm confident of nailing the solution, I can't always claim to fathom the clue's inner workings.
Maybe you can. All these suspects below hail from recent Times puzzles, and none of them are 100% lucid from where I sit. Please shed some light, and let's see what mayhem we can inflict, devising our own clues for the same answers.
1. Fancies a piece of cake cut by girl coming back = IDEAS
2. Like a son fleeing building again? = RESEMBLING
3. Size of paper once used for maps = ATLAS
4. Something from tea girl preserved? = CANNED
5. Charge leader about rude remark - managed to fix it = BANDAGED
6. What's too much if wrapped in second piece of Xmas paper? = MOTTO
7. One pursues river horse - certainly not one of the big five = RHINO
8. Shrewd criminals - one turned out to be patriotic = FLY THE FLAG
Any light - or delight - welcome.