26 November, 2013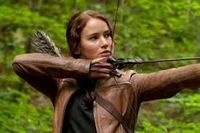 A Storm with a prize, and an appetite. Below are the elaborate names of Hunger Games, from Katniss to Coriolanus. For a chance to win Rainy Day Crosswords – that Fairfax volume so kindly recycled by Sam – see who can twist any name into some wordplay that suggests food, or hunger.
GALE HAWTHORNE, say, could be Rabidly gnaw whole heart. PEETA MELLARK may be Sound veggie – eat large and small perhaps, plus bird.
No need to vote. I will give the forum a sweep after Thursday 5pm, with the winner announced on the weekend. To keep things above board, please pick a peckish (or foodie) pseudonym. Here's the menu:
KATNISS EVERDEEN
GALE HAWTHORNE
PEETA MELLARK
HAYMITCH ABERNATHY
EFFIE TRINKET
SENECA CRANE
CLAUDIUS TEMPLESMITH
CORIOLANUS SNOW
Tuck in. May the best cut-lunch warrior prevail.