11 October, 2017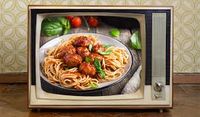 Contest time on the DA blog, your chance to win your own Gargantuan Book of Words - an omnibus of brain-games, quizzes, riddles, word stories and a list like the one below.
The Impasta List, as I call it. Said aloud, with the right Roman rhythm, each double sounds like a type of pasta, from plasma telly to Monday lotto.
For a chance to grab Gargantuan, your challenge is twofold - and molto piccante. First, can you provide any more additions to the list - bona-fide or bogus couplings that mimic pasta? And second, can you contrive a classy clue for any of the impastas already listed here? No need for definition - just wordplay only.
To ensure fairness, choose a pasta-flavoured alias. And to ease admin, please assemble your best TWO examples, from the TWO categories, before this Sunday at 5pm. I will announce the winner late next week. Dig in.
PLASMA TELLY
REAL CROAKY
TAN BIKINI
SILLY DONKEY
WARM BEANIE
LONG JOURNEY
TOO TOUCHY
ICE HOCKEY
BUSY DELI
MONDAY LOTTO