27 January, 2014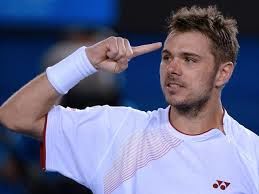 Yes he can, Stan the man. He stuck to his plan with elan. A deserving champ for the punters, Stan Wawrinka, beating the first and second seeds to claim the grail. Though is that how things played out in our own tennis tournament last week? Let's see. Here are my winners:
Special mention to Annette for introducing the Hebrew alphabet. (A first for the DA site.) And a louche wink to Phillip Useless for a salacious rendition of BOUCHARD: Crazy broad embraced raunch, ran away.
Resounding plaudit to the un-anonymous Mr X for encoding IVANOVIC into a tennis score, a feat neatly mirrored by Continental Grip: No 1 versus a No 6 on clay surface. (All we need there is an anagram signpost.)
But the top 4 clues in ascending order:
BERDYCH – Derby jockeys leading Cup Hopes [Cat Pash has you looking in the wrong arena.]
IVANOVIC – A short amateur given drip beforehand [Sneakily, Goran could well have omitted the last word. But the kindness, on top of the sleekness, makes this one classy clue.]
PENNETTA – Four points from first title in ATP comeback [Fine eureka – seeing ATP on the outer, with points + T within. Deft work from Continental Grip.]
WAWRINKA – Player awkward in rock band [Soon as you realise BAND should be BAN-D, you go wow. Well played Love All.]
Love youse all. I was Go Ana, for the record. A splendid showing of speed and skill to match the Rod Laver fortnight. Thank you linesman, thank you ballkids.
"