2 November, 2012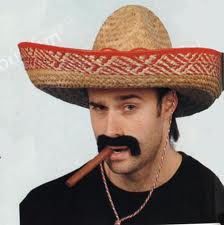 Si me observaras, sólo verías a un padre de familia adulto que vive en los suburbios"… pero en realidad, hay mucho más. La misión de un hombre de misterio con gusto por los juegos de palabras.
Translated from the Spanish, that same claim becomes: If you were to observe me, you'd see just a middle aged suburban dad"… but there really is a whole lot more going on. The mission of a man of mystery with a penchant for word play.
Sound familiar? Verbal Circuits, the mini-doco made by Elena Hattersley over summer, has gained selection at the inaugural Baja International Film Fiesta in Mexico. My 5-minute fame will commence on November 15, and you can follow the responses (or view the original) on Elena's blog. That's right – the auteur is winging to Mexico, but there was no room under her poncho for el hombre de misterio.
Just for fun, any other movies we can Mexicanise? Here are two off the hip: Sam Spade in The Big Siesta, and Manana Never Dies, guest starring Tom Veracruz. Algo mas?
"