5 March, 2013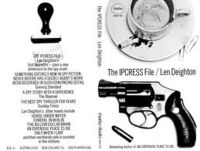 This is a bizarre Storm, with a glitzy prize. I'm writing a new book called The Great Clue Chase, where 100 mini-chapters cover the 100-year timeline of the crossword, each one looking at a remarkable puzzle. As an added quirk, a chosen clue serves as chapter heading.
For 1963, however, there's a snag. The chapter is about The Ipcress File by Len Deighton, as the 1963 novel includes several crossword answers, but no clues. Your challenge, using spy-like bylines, is to invent those clues, with the best to become the chapter's heading, with due credit in the book.
Oh wait, one more thing. The first two words need clues, full stop. What can you make, with wordplay and definition? The next group of small words is a separate category, and the most important part of the Storm. The best clue here will have the potential of being solved by any two of the words – a challenge in ambiguity.
Tough, and maybe impossible. But see what we manage. The prize is posterity, don't forget. So that's two standard clues (for the first two musical terms), and one ambiguous clue for any two of the shrimps. here they are:
ROUNDELAYS
DITHYRAMBS
AWE/EWE/EAT/OAT/SAT
Roundelays are songs, and dithyrambs, hymns. Clue them with panache. For the next bunch, pick any two members and see if you can contrive the one mutual clue. Send your three – one from each category – to DA Email before Thursday 9pm, and we vote (3/2/1) in all categories by Friday 6pm. Start filing.
STOP PRESS – Due to the nature of this week's prize, the title of a chapter in The Great Clue Chase, I will be playing sole judge, jury and exec. Submit your best three today pre-9pm, and expect the usual Storm debrief on the weekend. Thanks for such a dynamic response.