9 February, 2016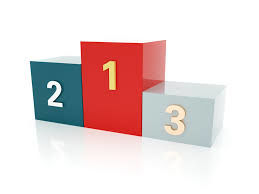 Time for the results and rosettes for last week's Storm, dealing with anagram pairs as clues, and as possible rhymes. The winner was the player to excel in both categories - a verbal biathlon.
Al in all, we enjoyed almost 50 entries from the likes of Mr Merits, Begin Binge, Elvis Lives and teammate. A few notes on notables in Category 1 - the Clues:
TEASER - I ate a serve, a morsel, a bite-sized chunk (Deft hidden from Bare Bear)
PRIEST - Father Time initially interferes in... (Neat seaming - depicting Father/Time - from lively Elvis.)
POSH - Typos horribly inelegant? (More splendid seamwork via King Elvis.)
SHINGLE - Opening hole-in-one at Pebble Beach (Brilliant green trope from Britney Spears)
++
In Category 2, quite a few nuggets shone, including:
BOAST/BOATS & COAST/COATS (Senor Snore)
MINE/MIEN & ARGENTINE/TANGERINE (Senor Ditto)
WHAT/THAW & ROT/TOR (OK, they were mine, but I liked how the pairs owned disparate lettering.)
PESTO/TOPES & PRESTO/TROPES (my favourite foursome, from the the elegant teammate)
++
But the dabbler to achieve the best double, scoring high in both categories [cue drumroll] was the hexapod among us - Nicest Insect - who magicked this combo:
AGONISED - Stewed apple, originally green, is eaten by man
DIAGNOSE - Identify problem area in mine feature? [Paulesque in surface sheen]
Plus: FEAST/FEATS & BEAST/BEATS
'Congrants' to the buggy one - who could well be Ray again - and thanks to all players who dared to put their mind around this contorted challenge. A copy of Trench Slang will be zipped to the creepy-crawly in question.