8 May, 2012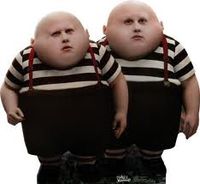 Big Storm this week, with a flash prize too. For a chance to win Michael Quinion's eclectic and erudite book of word origins – Why Is Q Always Followed By U? – you need to pick on other famous pairs in fiction, life, business and elsewhere. You know the nominees I mean:
Oscar & Lucinda, Brad & Angelina, Proctor & Gamble, Hawke & Keating, B1 & B2…
Choose a pair, any pair, and clue both. No need for a definition, just wow us with wordplay. In the end you'll need to choose two pairs only from your output, for communal voting on Friday. With that in mind, choose half a famed couple as your alias.
Remember, this is all about the strength of two – if one clue is five-star, but the pair's other half has only a so-so clue, then that pair is in peril. The ultimate winner will produce a dazzling duet, according to the playing electorate. Handy if you submit clues this way:
BLACK: Front of Lancia smashes into rear
DECKER: Audience look at KO specialist?
Don't forget your alias. And to handpick your own TWO PAIRS by Thursday 9pm. Then on Friday to vote from five (fab) to one (fine), treating each couple as the one entry. Under the guise of Cher, or Cheech, or whatever name I go with, I'll declare the podium – and Q/U winner – on the weekend.