20 March, 2012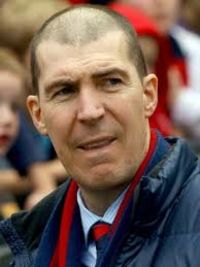 For those yet to hear, today marks the falling of an Irish giant. Almost 200cms, the Demon ruckman cast a long shadow on the field, and even longer beyond the boundary. Not only did he play 11 straight seasons without missing a game, picked up a Brownlow, he next threw his heart and soul into community work, helping kids in crisis through his Reach Foundation.
Hence this Storm relies on Irish words we've adopted, just as Australia warmly embraced Jimmy. Six words, each with a dram of Blarney, await your clueing. But before I launch the list, from CRAIC to WHISKEY, two small favours:
First, please adopt an Irish-flavoured pseudonym if you wish to play. And second, if we can rely on peer-voting by Friday – in Brownlow fashion of course – as this week and next I will be doing two road-trips, spreading the word about language.
So with a cryptic salutes to James Stynes, the list:
CRAIC (pronounced 'crack') – a spree, or good time
HOOLIGAN – Jimmy? Never
LEPRECHAUN – the anatomic opposite of a ruckman
SHILLELAGH – a knotted walking stick, often used as a weapon by frustrated Dee supporters.
SMITHEREENS – a shock's aftermath
WHISKEY – 'May the good Lord take a liking to you, but not so soon.'
STOP PRESS: To play, file your best six by Thursday midnight. To peer-vote, submit your 5/4/3/2/1 for rival clues by 6pm Friday, using the email link. (So that's 5 points for best, and 1 point for fifth best.) And last, to make this a wake a true wassail – I will also be playing under a Celtic cover-name. Let's (river)-dance.