18 March, 2016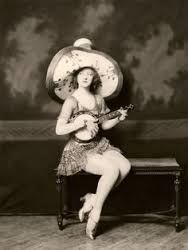 Fresh from this week's contest, where our minds have been meddling with celebs into the wee hours, I thought we could extend the trick with a Friday anagram folly.
The trick is mixing a person's first name with their surname's initial, so creating a word - or other name. Folk queen JOAN BAEZ, for example, can produce BANJO, which could inspire the clue:
Folk singer's instrument
Just as Oz actor's iodide could be MICHAEL CATON CHEMICAL.
Have the hang. Let's see how we fare without supplying answer lengths, but keeping our clues relatively uncryptic. Comic, sure. Oblique - no worries. Just not pretzel-like in the creative logic department. Here's my opening sample:
DA1 - Magnate millet?
DA2 - Did she cover Tapestry?
DA3 - Dates a Kangaroo legend
DA4 - TV host fraud
DA5 - Twangy UK tycoon
DA6 - Frailer US screenwriter
Pretty tricky I'm guessing. Let's see how we swirl, creating your own, with byline and clue numbers to make the getting easier to track.