31 May, 2016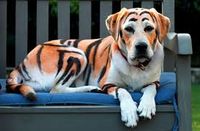 Dogs seem to hog the limelight when it comes to fancy hybrid names, from pugaliers to collipoos, from labradoodles to dobernauzers.
Enough ruff stuff. Let's devote this Storm to our own cross-breeding, splicing any two creatures (scaled, feathered, furred or spineless) by using their common cluster of letters.
That will offer you an urchinchilla to clue, or a labradormouse, a gorillama or zebrat. As you can see, you can rely on anything from two letters upward, so long as the linking cluster appears at one end, and opens the other.
Invent your animal and then create the clue. Let's see who can imagine the finest mongrel, as well as craft the sleekest clue. Here's an appetiser or two:
MARMOTH - Hurt speaker losing heart [MAR + MOuTH]
CAMELAND - Manacled deviant
ASPANIEL - Like Alpine ranges
Over to you, and your zoo. Show working if the clue is intricate, and enjoy your animal cocktails.