9 August, 2011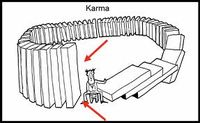 Before this website came into being, my niche was known as Cassowary Crossing. The original blog was based on my Offbeat guide to Australia, published in 2007. But soon the travel motif morphed into wordplay, and stuff like Birdbrains, Brainstorms and Clues of Repute seized control. A year ago the bird was ditched for this new-look, all-verbal home for Dabblers to flock together.
Hence this week's storm we dabble in reincarnation. Choose a celebrity – or person of profile – and wangle their letters to suggest what they will be in the next life. Or what have they already become, in the case of the notable dead. For example, Eddie Mabo has gone from loved liberator to gloved resuscitator, in the shape of Eddie Ambo.
Or Cameron Diaz has shifted from paparazzi target to gossip columnist: Romance Diaz. While surf champ Andy Irons has drifted from Waikiki Sunset to My Beautiful Laundrette in the guise of Andy Rinso.
That's the game: to mix the first or second name of your chosen celeb, and nutshell the karmic journey in a pithy summary. Double-barrels are OK, such as Gwyneth Paltrow becoming Gwyneth War-Plot, though a one-word shift perhaps holds greater charm. True Nirvana is reached by those entries owning a sweet synopsis, a clean anagram and a thoroughly deserved karma. Some more examples:
From talk show to talk (no): Harpo Winfrey
From Possession to possessed: AS Batty
From bubblegum pap to gangsta rap: Ni##er Spice
From It Girl to Frat Boy: Marilyn Mooner
From Good Will Hunting to food, kill, hunting: Matt Nomad
In the meantime, I'm still trying to conjure the right précis for Tenzing Groany! Spiritual enlightenment goes to the best three examples, with a shortlist of Zen zingers scheduled as part of our Saturday worship. Deadline so to speak is Thursday, 8pm. So get cracking and tackle your astral project.
"