27 February, 2011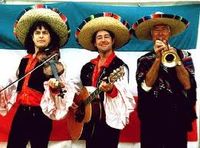 We mangled fifteen well-known Oz bands, past and present, through a Spanish translator. Madre del Lobo, for example, can only be Wolfmother, while Las Vinas has to be The Vines. Can you restore the combos before le proxima semana?
Jardin Salvaje (6,6)
Papa da Moda (5,4)
Avion de Reactor (3)
Hombres Trabajando (3,2,4)
Sorbete (7)
Banda de Arroyo (6,5,4)
Expertos de Maleficio (6,5)
Cincel Frio (4,6)
Totalmente Loco (6,2,8)
Mar Inhumano (5,3)
Ganchos del Cielo (8)
Polvo Dedo (12)
Silla de Plata (11)
Matones de Colina (7,5)
Rojito (6,3)
Can you create any more bilingual disgisues?
SOLUTION NEXT WEEK
BB298 SOLUTION: Clobber cobbler, rarest arrest, scarlet clarets, stocked dockets, escort sector, master stream, ruthless hustlers, bedroom boredom, lovely volley, friend finder, beefier freebie, tending denting, process corpses, esoteric coteries