18 July, 2011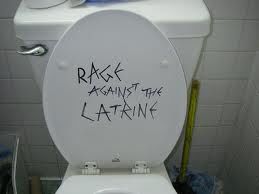 Sounds like most Times solvers on this blog are starting the new week on a score of one – or possibly zero. Pretty fresh slates all round, in fact, so a prime chance to match your wits with other solvers as we aim to complete a clean week of solutions. Though turning to less clean matters, here's a clue from Saturday's Times 9057:
Dump intended for rough terrain where river becomes lake (7)
The answer is OFFLOAD, where offroad changes one letter, though I took the ball and bolted in a different direction. All the way to the LATRINE, as this seemed a solution that kinda fit – a site intended for a dump, and a roughed-up TERRAIN (with an R for L) gives LATRINE: my answer of convenience.
Or was I being reckless? (Good luck with the week.)