4 December, 2012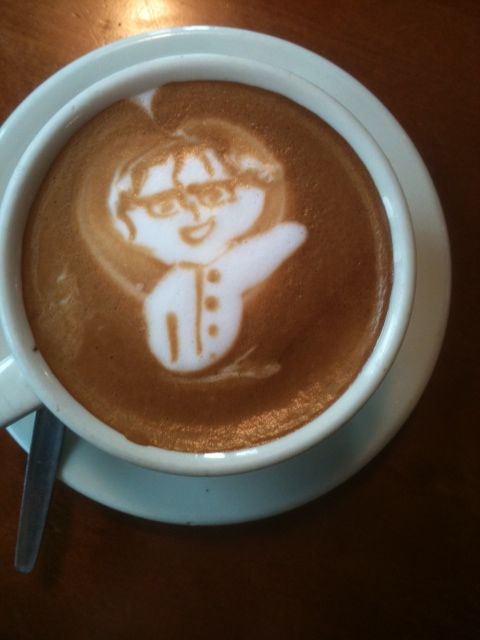 The ABC barista is an artisan. Her name is Liva, and she sketches her customers in the crema of their orders. Here's the Dictionary Man from yesterday, so faithful a thumbnail that I felt a little vandalistic slurping the coffee. Treat this iSnap as proof I once existed.
I'm also savouring the vocab of QC Robert Jay. He's the silk on the Leveson Inquiry. The chap will give either Murdoch a disarming glance, and wheel out such welcome terms as condign, nugatory, pellucid and adumbrate. (See, the word does exist outside crosswords! Though it's harder to display as an iSnap.)
My next Wordplay column is all about neglected vocab – the quiddity and propinquity of our glossary – and how we should embrace these overlooked relics. Novelist Will Self is one saviour of the recondite, as is Cormac McCarthy. Any other writers who revive the abstruse? Or have you struck an old word newly, of late? Be titivated to hear.
Look for a Storm-lite later today, as another mad week besets your blogmeister. For the live (and talkback) kind, try pod-slurping ABC Tasmania at 4.30pm, and 702 Sydney with Dominic Knight at 9.25pm. Odd words always welcome.