4 August, 2012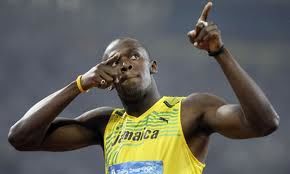 Just like the blue-ribbon dash in the main arena, eight runners took their marks last week, trying to out-hustle, out-muscle, their rivals. And boy, did we find a Usain Bolt in the pack, as you'll read.
The way I rated this Storm, was calculating the total number of votes gained, across all four offered clues (or less clues in some cases). In order to give you an inkling where you stand in the IOC rankings, I've chosen this week to publish all totals. If you're low, see if you can tweak that trend next meet. If you're midfield, again, take your lumps and match it with the Jamaican soon.
Let's enjoy some fine clues, and big vote pullers. In the legend category, 11 points saw bronze go to Stick Check's Shirley Strickland: Temple's secret plot
While silver and gold – spoiler alert – went to a single athlete, viz Eric the Eel. The slippery customer amassed a whopping 19- and 25-point quinella for these two jewels:
SHANE GOULD: She held an unbeatable lead in Olympic quest!
DAWN FRASER: AM followed by PM?
In the other category, Epee snared bronze on 7 for Melinda Gainsford: In medal dash, wins car. (That was me by the way, defying my own rules by choosing a non-current athlete!)
Probable newcomer (it's hard to be sure) Not Chris Morgan swooped silver on 11 for a popular manipulation of Nick Darcy: Kid can cry foul
But that Equatorial sea-snake stole the laurels again, bagging 14 points for Stephanie Rice: Patience is her undoing.
No shock then that our outright champ is Eric on a mind-spinning sum of 62. Compare that to the 'lowly' silver star, Epee on 22, just pipping Samaranch on 19. For sweepstake ticket holders, the remainder of the field was Stick Check (15), Not Chris (14), Siddy (11), High Bar (2) and Chocolate Gold Medal (1).
Please let me know if you rather I don't parade the full count in future, bearing in mind I'm a professional clue-maker and I was monstered by a gifted amateur – not for the first time! A great race. All hail the Eel, and thanks for your snivel-free sportspersonship.
"